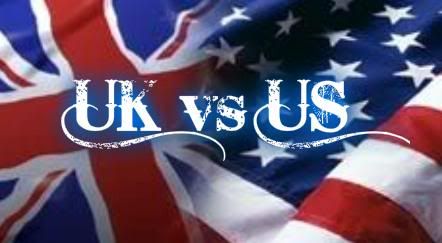 Most of you know I have been doing this since I started the blog. I love comparing different covers for the same book. So now that there is two of us on the blog I thought I would actually make it a regular feature on a Monday and a Friday. And since Destiny is from the US and Siobhan is from the UK it would even better. So here is todays UK vs US.
UK vs US
Avenger's Angel by Heather Killough-Walden
UK: 24th Nov 2011
US: 1st Nov 2011



Four thousand years ago, four archangels were cast down to Earth in human form. God's favourites, they came to find their mates, the other half of their souls made only for them, without whom they will ever be complete. Uriel, Gabriel, Azrael and Michael, however, were not alone. They were followed by another, determined to find the archesses for himself, and whose power cannot be underestimated. But after centuries of fruitless searching, the archangels - and their enemy - have all but given up hope. Until one day beautiful and gifted Eleanore Granger crosses paths with Uriel, the Angel of Vengeance. And as a storm rages, outside forces conspire together, initiating an age old battle of good versus evil to win the first archess.
Siobhan:
UK all the way!!! It's much more eye catching and those Wings are just mesmorising. I love the overall image of the UK. The US one is not the kind of cover I like. The guys is yummy dont get me wrong but I would walk right by this kind image.
Destiny:
I love the UK cover. It is gorgeous. It is magical and whimsical and looks like it will just envelop you in the story of the cast down angels. On the other hand, the US cover almost borders on a romance novel cover. UK cover definitely wins for me!
Winner:
UK
What do you prefer?