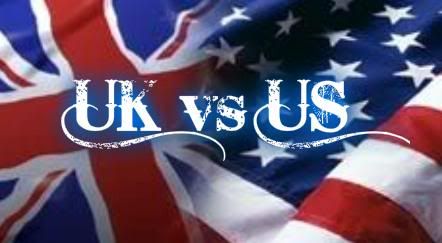 Most of you know I have been doing this since I started the blog. I love comparing different covers for the same book. So now that there is two of us on the blog I thought I would actually make it a regular feature on a Monday and a Friday. And since Destiny is from the US and Siobhan is from the UK it would even better. So here is todays UK vs US.
Siobhán

's Pick
UK U
Smoulder/The Space Between by Brenna Yovanoff
UK: 5th Jan 2012
US: 15th Nov 2011



Being the youngest daughter of the Devil has never been easy. Daphne's father has no time for her, her mother no interest, and her status in the upper echelon separates her from the working-class demons that populate Lucifer's metropolis. When her brother and only confidante goes missing, life in the restrictive city of Pandemonium becomes intolerable. Now, in an attempt to find him, Daphne sets out for Earth - and finds it larger and more chaotic than she imagined: a dazzling expanse of noise, dirt and random violence. Despite her bewilderment, she navigates the mortal world with growing fascination, gaining an ally when she saves a dying boy from her father's minions.




For Truman Flynn, the last year has been one long downward spiral, but when Daphne arrives just in time to save his life, he finds himself unexpectedly glad to have another chance. Together, Daphne and Truman go in search of her brother, braving the hazards of Las Vegas and the perils of first love, even as it becomes increasingly clear that her brother might have had a secret and compelling reason for leaving. Lucifer's agents aren't the only creatures on the prowl, and Daphne soon finds herself the target of a plan to rid the world of demons for good. Now she must evade a demon-eating monster, rescue her brother from an angelic zealot, and save the boy she loves from his greatest enemy - himself.
Siobhán:
Why publishers feel the need to completely change book covers for different countries I don't know. I do like the UK one I think it is pretty but compared to the US one is just doesn't compare. The US one is super creepy and I love it. I think it captures your attention and will make you wanna read it.
Destiny:
I am 100% hands down totally in love with the US cover. I love how the girl is draped across the silver (metallic) furnishings and has the dark blood red background of what could be Lucifer's metropolis behind her. It is just eye-catching and stunning and pulls you in. You just want to know more about the book!! I do like the cover lettering and title on the UK edition, but as a whole, US cover is the winner!!
What do you prefer?