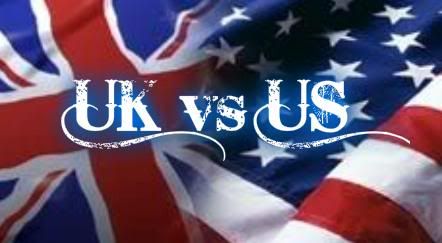 Most of you know I have been doing this since I started the blog. I love comparing different covers for the same book. So now that there is two of us on the blog I thought I would actually make it a regular feature on a Monday and a Friday. And since Destiny is from the US and Siobhan is from the UK it would even better. So here is todays UK vs US.
Siobhan's Pick
UK
US
Hallowed by Cynthia Hand
Unearthly #2
UK: 2nd Jan 2012
US: 17th Jan 2012
Book Description
(May be Spoilery for those who havent read Book 1)
For months part-angel Clara Gardner trained to face the raging forest fire from her visions and rescue the alluring and mysterious Christian Prescott from the blaze. But nothing could prepare her for the fateful decisions she would be forced to make that day, or the startling revelation that her purpose—the task she was put on earth to accomplish—is not as straightforward as she thought. Now, torn between her increasingly complicated feelings for Christian and her love for her boyfriend, Tucker, Clara struggles to make sense of what she was supposed to do the day of the fire. And, as she is drawn further into the world of part angels and the growing conflict between White Wings and Black Wings, Clara learns of the terrifying new reality that she must face: Someone close to her will die in a matter of months. With her future uncertain, the only thing Clara knows for sure is that the fire was just the beginning.
Siobhan:
Seriously? Do I even need to explain. The UK one is just breathtakinly stunning. Its beautiful, eye catching and I love how they have got the image of Clara as if she is getting ready to fly. I also love the font use for the title and the pattern behind it. It all ties in together perfectly and this is a cover you couldn't not stop and look at in a store. The US cover is still quite pretty but for me just doesn't compare to the UK
Destiny:
I love, love, LOVE the UK cover. I love how the girl who is part-angel is coming up from the earth with her arms spread wide. And the dress is so pretty! The whole cover just embraces the whole novel's premise. The US cover is just very bland and the blue and white almost blur together and it is actually difficult to really depict the image. The potential is there, it is just lost in its two-tone blur. UK wins without question!!
Winner: UK
What do you prefer?