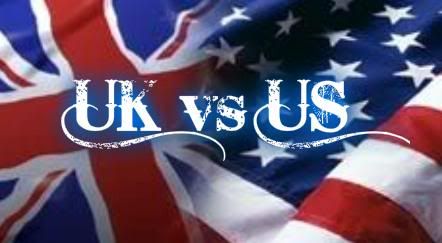 Most of you know I have been doing this since I started the blog. I love comparing different covers for the same book. So now that there is two of us on the blog I thought I would actually make it a regular feature on a Monday and a Friday. And since Destiny is from the US and Siobhan is from the UK it would even better. So here is todays UK vs US.
Destiny's Pick
The Girl of Fire and Thorn by Rae Carson
Once a century, one person is chosen for greatness.

Elisa is the chosen one.

But she is also the younger of two princesses, the one who has never done anything remarkable. She can't see how she ever will. Now, on her sixteenth birthday, she has become the secret wife of a handsome and worldly king—a king whose country is in turmoil. A king who needs the chosen one, not a failure of a princess And he's not the only one who needs her. Savage enemies seething with dark magic are hunting her. A daring, determined revolutionary thinks she could be his people's savior. And he looks at her in a way that no man has ever looked at her before. Soon it is not just her life, but her very heart that is at stake. Elisa could be everything to those who need her most. If the prophecy is fulfilled. If she finds the power deep within herself. If she doesn't die young.

Most of the chosen do.
Destiny:
I really like the US version's blue color scheme and the picture of the girl in what looks like an orb. It makes you want to pick up the book and see what its about. The UK cover almost makes the book appear to be middle eastern or historical/current fiction which is something I would pass over in a store without a second glance - and doesn't fit in with the book's synopsis at all in my opinion. The US one wins for me by adding a magical quality to it and by incorporating in the plot dynamic in its design.
Siobhan:
Honestly. I think both these covers are horrible. I don't like anything about them at all. I haven't read the book just because it not something I think I would like so I don't know if either cover matches the story. So since I don't like any of the covers. I will go with Destiny's opinion.
Winner:
US
What do you prefer?